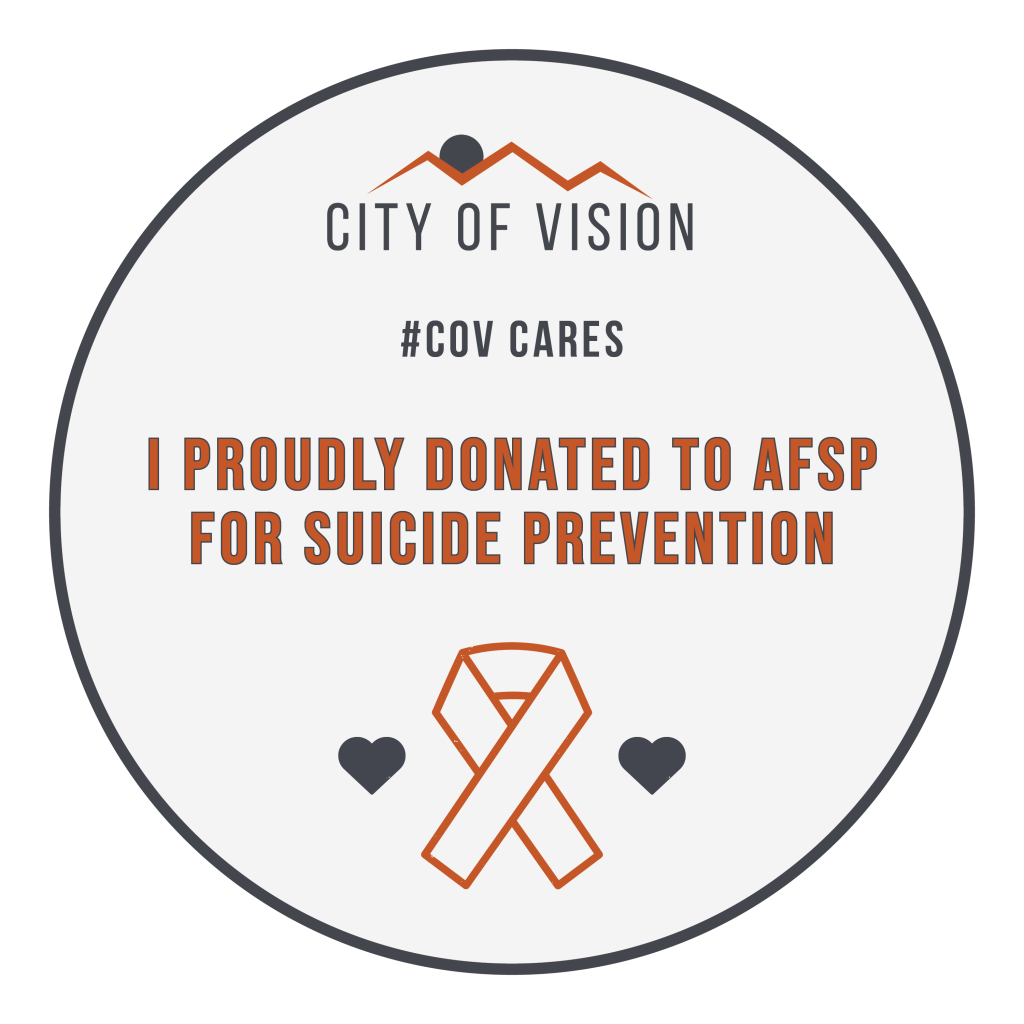 At City of Vision, we've always believed that eyecare is about more than just clear vision; it's about seeing the world in its entirety and making a positive impact on the lives of our patients and community. Our commitment to this mission led us to create 'City of Vision Cares,' a program dedicated to giving back and supporting causes that touch our hearts.
Why This Cause Matters to Us
This mission holds a special place in our hearts, as it touches near and dear to one of our very own COV team members. Their personal experience has ignited our passion to raise awareness, offer support, and be a beacon of hope for those affected by suicide.
The Annual "Out of the Darkness" Walk
Inspiration often strikes in the most unexpected places, and for us, it came during the annual "Out of the Darkness" walk. This powerful event, which unites communities across the nation, resonated deeply with our team. It reminded us that even small actions can lead to big change, and every step taken can bring us closer to a world where suicide is no longer a silent epidemic.
ABQ WALK INFORMATION- Join our team at the walk
Date: 09/30/2023
Location: Hoffmantown Church, Albuquerque, NM
Check-in Time: 8:30 am
Walk Start Time: 9:30 am
Introducing COV Proud Donor Badges
This year, we're thrilled to introduce COV Proud Donor Badges – a symbol of unity, compassion, and the unwavering support we have for one another. These badges are more than just tokens; they're a testament to our commitment to creating a world where every individual knows they are seen, heard, and valued.
How You Can Contribute
If you'd like to join us in making a difference, here's how:
💜 Place a Donation in Our Office: Visit us at City of Vision, and you can contribute to our mission by placing a donation in our office. Every dollar counts, and together, we can create a wave of change.
💜 Display Your Badge on Our Banner: Your support deserves recognition, and we'd be honored to display your badge on our banner during the upcoming walk. It's a visual representation of the collective love and care that our community embodies.
💜 Double the Impact: As a gesture of our commitment, Dr. Ho will match every dollar donated, dollar for dollar. Your contribution will have twice the impact in our journey towards a world where suicide is preventable.
** If you wish to donate online just CLICK HERE to donate to our AFSP team fundraiser.
As we embark on this journey during Suicide Prevention Month, we invite you to join us. Support our mission by sporting a 'COV Cares' badge and making a donation. Every contribution, no matter how small, helps raise awareness, fund research, and provide vital support to those in need.
City of Vision isn't just an eyecare practice; it's a community of caring individuals, dedicated to making a positive impact on the world. Together, we can shine a light on suicide prevention and create a brighter, more compassionate future.
FOLLOW US ON SOCIAL MEDIA
INSTAGRAM: @city_of_vision
FACEBOOK: @cityofvisioneyecare