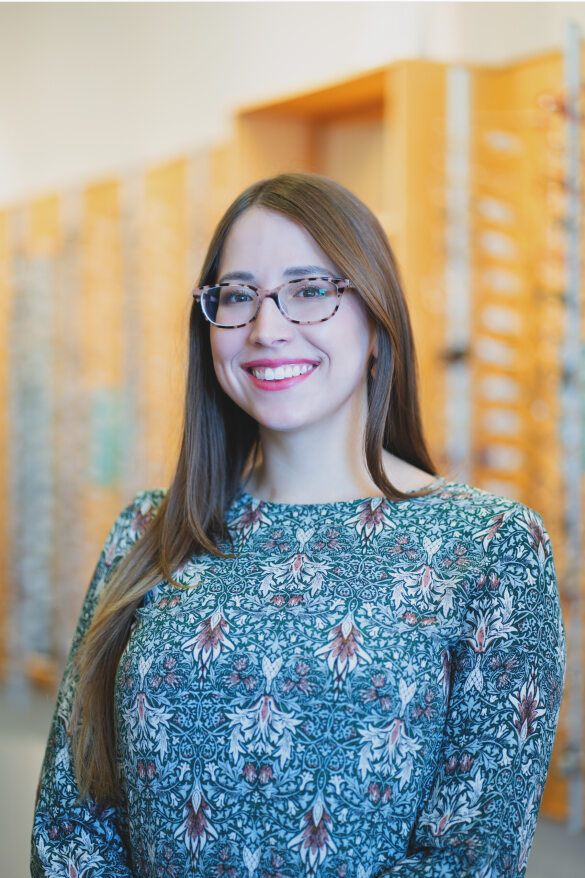 Curriculum Vitae
Bachelors: Vision Science, University of Incarnate Word, San Antonio
Doctorate: Optometry, University of Houston, College of Optometry
Residency: Albuquerque Indian Health Services
Honors & Awards:
Graduation with Magna Cum Laude Honors – Optometry Doctorate
Graduation with Magna Cum Laude Honors – Bachelors Degree
Professional Associations
American Academy of Optometry (AAO)
Ultimately, I try to make a difference for someones's life and sight….. similar to what was once done for me.

~ Dr. Erin Flores
Residency & Work Experience
Albuquerque Indian Health Service – Resident Optometrist [SCCO]
July 2022 – May 2023

Specializing in ocular disease and primary care for predominantly Navajo and Pueblo tribes in a multifactorial health care setting.
Responsible for the following: preliminary and ancillary testing, refraction, ocular health evaluation, treatment, referral and follow up scheduling.
Heavy use of Heidelberg OCT with OCT-A, Humphries Visual Field and fundus photography.
Co-management with neurologists and cornea, retinal, and oculoplastic ophthalmologists.
Frequently order lab testing and imaging (CT scans, MRI)
Daily management: glaucoma, diabetic retinopathy, cataracts and iritis.
10-14 patients encountered daily of all age ranges and health conditions.
Academic participation in weekly grand rounds presentations, quarterly peer reviewed article evaluations and case reports.
Precept and train current 4th year students from UHCO, NECO and Midwestern College of Optometry.
University of Houston College of Optometry – Teaching Assistant
August -December 2020 "Clinical Practicum 3"
Assisted with teaching of clinical skills such as anterior segment evaluation, tonometry and dilated fundus examination with 78D and 20D lenses.
Helped prepared students for clinical competency examinations.
Lectures & Presentations
Grand Rounds (and case report) | SCCO Grand Rounds – 2022/09/22
"Neovascular Glaucoma in an uncontrolled diabetic"
Grand Rounds (and pending case report) | SCCO Grand Rounds – 2022/01/05

"I know you know about INO"
Grand Rounds (and case report) | New Development Course/SCCO Grand Rounds – 2021/10/27
"Management of Achromatopsia with tinted lenses"
Specialty Clinic Rotations
Texas Children's Hospital, Center for Women and Children
Spring 2022
UHCO Externship – Community healthcare for women and children, aged 4 months – 40 years. Specialized in general primary care, refraction, vision therapy and ocular disease in the low socioeconomic demographics within North Houston. Improved objective testing techniques and clinical efficiency for pediatric eye exams. Competent in prescribing glasses for children.
Myopia Management services, UHCO
Fall 2021
Myopia control of children 4-18 years of age with atropine, orthokeratology, Misight, soft multifocal contact lenses and bifocal spectacles. Performed specialized testing and interpretation including axial length measurements, Medmont and Pentacam topography and Grand Seiko cycloplegic autorefractor. Calculated myopic progression and analyzed treatment effectiveness.
Specialty Needs Adult and Pediatrics' clinic (S.N.A.P.S), UHCO
Fall 2021
Completed ocular health and vision examinations of patients with behavioral and developmental limitations. Enhanced objective testing skills with loose lens retinoscopy, bruckner alignment, krimsky alignment technique, and teller acuity testing.
Neurorehabilitation clinic, UHCO
Fall 2021
Assessed ocular health, cranial nerve palsies, visual field defects and neglect post neurological trauma in patients 18-78 years of age. Specialty clinic provided care with Fresnel prism application, palliative management, visual field testing and co-management with vision and occupational therapists.
Albuquerque Indian Health services, UHCO Externship
Summer 2021
Provided primary optometric care and ocular disease management to the Native American community in Albuquerque, New Mexico. Focused on management of various pathologies such as diabetic retinopathy, primary open angle glaucoma, cataracts, retinal degenerations, and refractive amblyopia. Enhanced clinical ability to diagnose and manage challenging ocular and systemic diseases. Collaborated with multi-disciplinary providers.
Pearland Eye Care, UHCO Optical Rotation
Spring 2021
Family vision center with a full service optical. Shadowed and assisted opticians to complete spectacle orders, check in frames and cut lenses in office. Worked alongside front desk staff for insurance processing and helped facilitate clinic flow.
About Erin
Dr. Erin Flores grew up in Katy Texas. She started wearing glasses at the age of five, and was very well acquainted with her optometrist. She always been passionate and naturally gifted at art, and was interested in pursuing it as a career. However, the trajectory of her future was changed at 17 when a retinal detachment in her left eye was discovered, requiring urgent surgical repair. She feared never being able to enjoy painting or my vision the same, however this experience ignited her interest in Optometry and ocular health.
Once her eye recovered, she applied to the University of the Incarnate Word in San Antonio Texas to receive a Bachelors in Vision science, with a minor in art of course. In her studies, she learned vision and art (in the 2D sense) go hand and hand. It was fascinating for her to learn the science of sight and perception. It made her appreciate vision and why art, life, the world is perceived the way it is.
Life Outside of Work
Dr. Erin Flores is a talented artist.  She specializes in day of the dead artwork, as it makes her feel closer to her grandma and her Mexican heritage. Her greatest accomplishment as an artist was having the City of Albuquerque Public Art purchase one of her paintings this November for their Dia de Los Muertos exhibit!
When she's not doing art things, she loves to dance, especially two-step.
Make an Appointment with Dr. Erin Flores
If you would like to make an appointment with Dr. Flores, please fill out the below form.  We will get back to you typically within one business day.