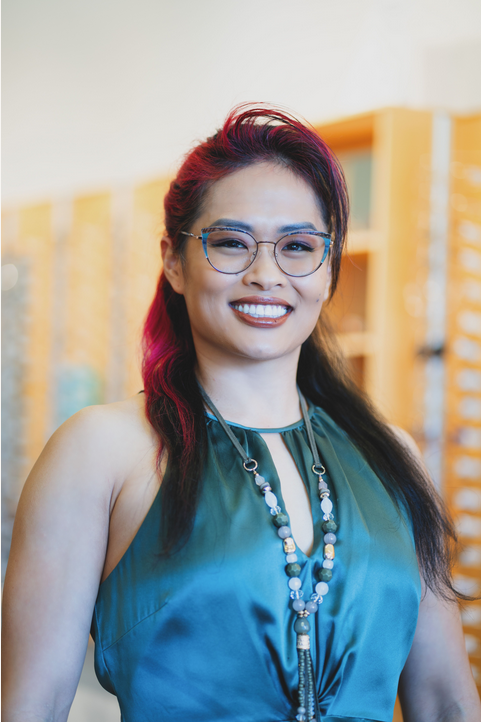 Curriculum Vitae
Bachelors: Psychology, University of California San Diego
Doctorate: Optometry, Southern California College of Optometry
Residency: Ocular Disease & Primary Care, Albuquerque VA Medical Center
Honors & Awards:
Beta Sigma Kappa National Honor Society
Graduation with Magna Cum Laude Honors
Orange County Optometric Society Endowed Award for leadership in student government, the community, and the political arena.
Betty Lou Hoeft Memorial Endowed Scholarship
Blake Family Endowed Scholarship
Dr. Louis & Marcia Zabner Endowed Scholarship
Professional Associations
New Mexico Optometric Association (NMOA)
American Optometric Association (AOA)
American Academy of Optometry (AAO)
Lectures & Presentations
Academy of Optometry 2017 | Chicago October 2017
Poster Session: A Case of Anterior Scleritis in Liver Transplant Patient
Academy of Optometry 2016 | Anaheim November 2016
Lecture: Hot Topics in Glaucoma: Toward Best Practices
Comparison of four different intraocular pressure measurements and their relationships with rate of glaucoma progression
Raymond G Murphy VA Medical Center | Albuquerque NM Jul 2015 – Jun 2016
Residency Presentations
Plaquenil Maculopathy
Central Serous Maculopathy
Vitreous Hemorrhage
Fuchs Endothelial Corneal Dystrophy
Non-Infectious Scleritis
About Tracy
Dr. Tracy Ho was born in raised in Honolulu, Hawaii.  She left the islands to complete her bachelor's degree in Psychology at the University of California San Diego. After undergraduate studies, she worked in the healthcare industry for three years before entering the Southern California College of Optometry doctorate program in 2011. She graduated in 2015 with Magna Cum Laude honors and went on to complete her residency at the Albuquerque Veterans Administration Hospital in Ocular Disease and Primary Care. Dr. Ho enjoys seeing patients of all ages, but has special interest in caring for patients with glaucoma, macular degeneration, and diabetes.
I think one of the best parts about being an Optometrist is the trust patients give. They trust me to help them achieve their best possible vision. They trust me to care for the health of their eyes as my own. I am honored to have the opportunity to live up to these expectations every day, improving my patient's quality of life through sight.

~ Dr. Tracy Ho
Life Outside of Work
In the warmer seasons, Dr. Ho enjoys hiking and competitive shooting sports. In the colder seasons, Tracy loves to ski the local slopes such as Santa Fe and Taos.
Tracy is recently married and has three cats!
Make an Appointment with Dr. Tracy Ho
If you would like to make an appointment with Dr. Tracy Ho, please fill out the below form.  We will get back to you typically within one business day.